Call for a Right to Counsel!
Use our pre-made email template to call on the Board of Supervisors to codify a Right to Counsel for tenants facing eviction in Unincorporated LA County and to allocate $10 million in its annual budget.
WHAT IS RIGHT TO COUNSEL?
A right to counsel ordinance would provide free legal counsel to all low-income tenants along with a suite of permanently-funded services that make the right a reality. The services needed to implement a right to counsel include:
Legal representation for low-income families

Community education through workshops & clinics

Targeted outreach & organizing to build tenant power

Emergency rental assistance
Evictions Result from Unequal Power
We are in the midst of an eviction crisis which has only been exacerbated by the COVID-19 pandemic. Los Angeles has high rents in a poor city creating bad incentives for landlords to choose profit over people. This crisis is forcing working class residents out of their neighborhoods, out of the city, and in many cases onto the street.
In Los Angeles County, approximately 42,500 evictions are filed annually. Today 90% of tenants in Los Angeles facing eviction DO NOT have legal representation. While 90% of landlords DO. When tenants are not represented by an attorney, they almost always lose, even if they have a valid legal defense. This fact demonstrates that landlords are often able to evict tenants because they have the resources to do so, not because the law supports them. 
Codifying the Right is a permanent, institutionalized, and guaranteed provision of services to eligible tenants.
Codifying a Right ensures tenants' access to their constitutional rights of due process & equal protection under the law by guaranteeing a level playing field between landlord and tenant. Anything less simply says due process is inconvenient.
A funding allocation, when not backed by a right established by statute or court decision, is easily reduced or eliminated  during a complex and mostly invisible budget appropriations process.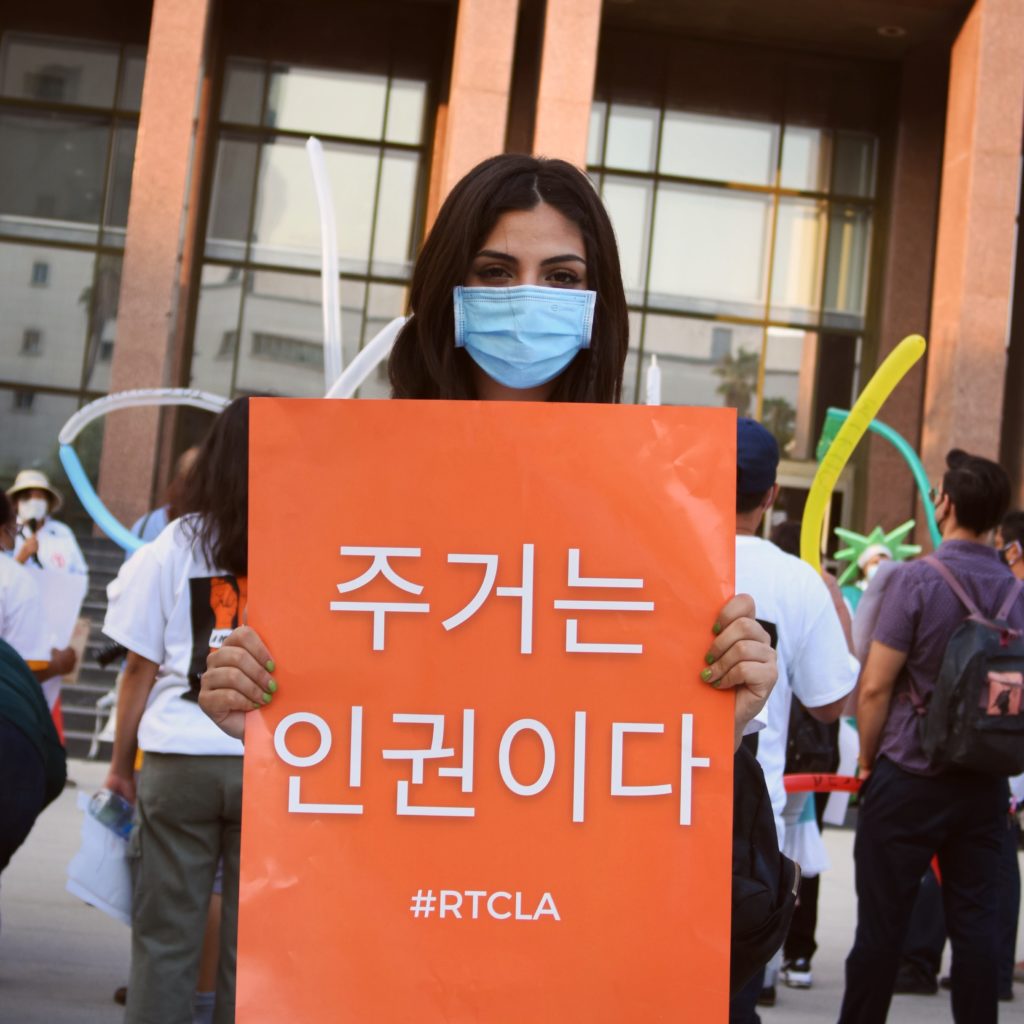 THE NATIONAL MOVEMENT
Right to Counsel is a National Movement
Right to Counsel laws are sweeping the nation. This is a national movement and Los Angeles should be next. 
In 2017, the New York City Council passed the first tenant right to counsel law. In the June 2018 primary, San Francisco voters mandated the city government to establish a universal tenant right to counsel law. Newark codified the right to free legal counsel and created a new office of tenant legal services in 2018.  Philadelphia, Cleveland, Washington DC, Detroit, Providence; the states Connecticut, Massachusetts,  Maryland, and Minnesota are joining this movement. Los Angeles should be next.